Regular price
Sale price
$13.00
Unit price
per
Sale
Sold out
Made From Sea Water
Our chalk isn't mined or imported from China; it's made from sea water. keeping our natural landscape intact. 
Eco Friendly Packaging
we're always on the lookout to improve our packaging, for our alcohol-based products we have really struggled to replace plastic. but we have the next best thing our chalk paste bottles are HDPE and sugarcane this makes our bottle highly recyclable but also as the sugar cane grows it remove approximately the same amount of C02 as it takes to make 10 bottles. While it's still plastic we think this is the best compromise for now. 
we'll also fill any bottles up you return to us, and you get a discount on your next order! 
Skin Care Built-in
Specially formulated to help protect and preserve your hands. It is infused with natural plant extracts, to protect your hands/skin as you climb.
Planting A Tree For Every Product Sold
For EVERY product sold we plant a tree this includes wholesale orders too so no matter where you buy our product from, you're helping grow a forest. if you buy 200 bags, we plant 200 trees simple. 
.
.
.
.
.
.
Our liquid chalk helps you apply exactly the amount of chalk you want right where you want it with no messing about, it's Thickener & Resin FREE, quick-drying & you use less too. 

It not only helps kill bacteria but has active ingredients to help you look after your hands.
- Removes Excess Oils, increasing friction over other brands!
- Anti-inflammatory properties!
- Clears and helps shrink pores, so you sweat less increasing friction throughout your climb.
- Helps to boost circulation!
- 70% Alcohol content for the most effective germ kill (don't take our word for it have a quick google yourself).
There's no other chalk like it!
 Contact us if you have any allergy concerns
Share
View full details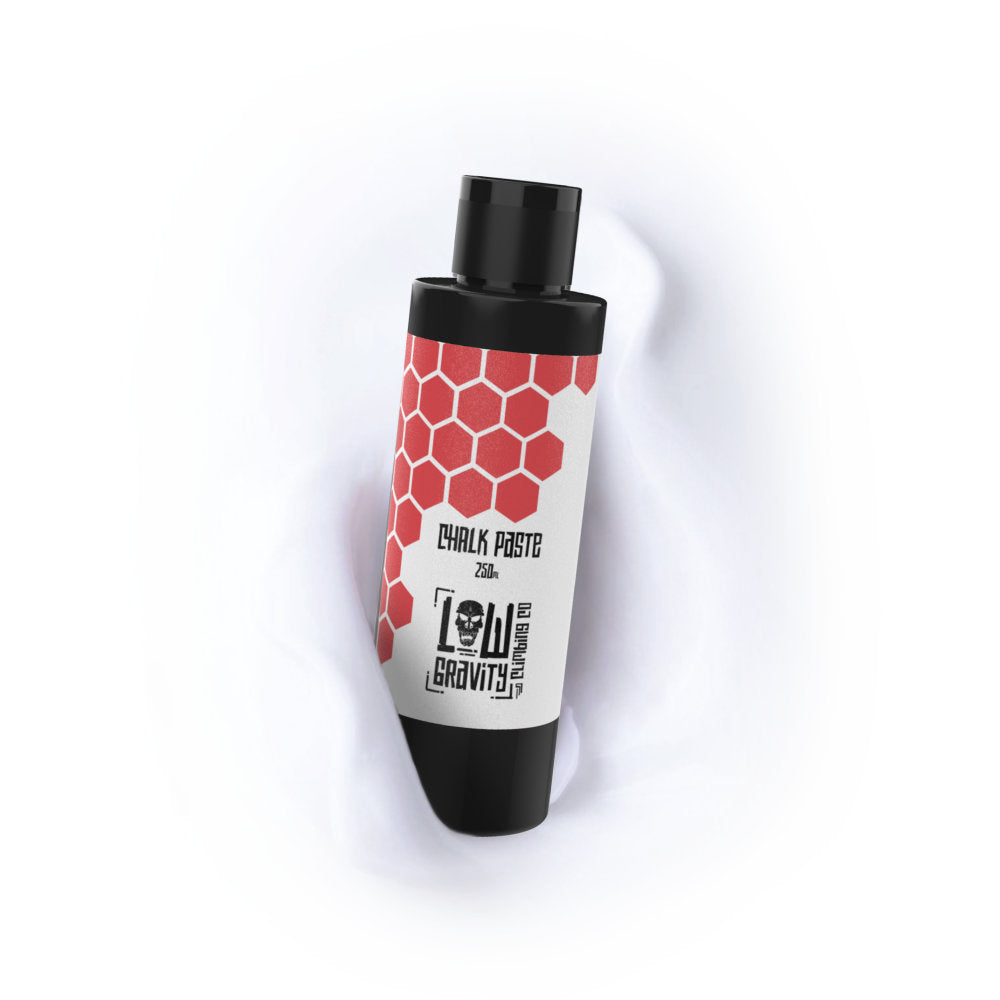 AWESOME
quality product made by quality people!!
Like Gloves…
Finally i got it… and this product is great. Good condition and it feels like a thin white glove… that gives a dry grip… so that what we want… the sad thing about it is that i wont buy it again because of the brexit… it takes 4 Weeks to get to germany and i had to collect it from the Custom office and pay tax… that is no fault from low gravity… but, u know it all… so, great product… wish you all best…
Great chalk
Nice liquid chalk, smells great and not as drying as others.
Love these Products
I have used these products for like 2 years. since covid. I love them! They are so nice My hands dont have massive claaises I love it.
Another great product!
Love everything from here. Strictly buy nothing else